A 2nd UTM-TCU Joint International Workshop 2019 was held from 26th to 29th August 2019 in collaboration with Landscape Architecture Program from Faculty of Built Environment & Surveying, UTM and Tokyo City University (TCU), Japan. Undergraduates ts from the Landscape Architecture program and Urban Life studies participated  in this international workshop . The theme of joint workshop was "Landscape Design Attraction for Heritage City in South-East Asia: Exploring Natural and Heritage Landscape" and was coordinated by Dr Lee Yoke Lai. The objectives of this workshop were to generate experiential learning through proactive participation, distal and learning, innovating ideas and bordering students' internationalization curriculum. Besides, this workshop became a platform for all students in deepening heritage landscape knowledge and culture exchange. The interactions between students have helped to develop their confidence and also enhance leadership qualities.
The first day of the workshop began with the workshop opening ceremony with a welcome speech  by Assoc. Prof. LAr. Dr. Sapura Binti Mohamad, Director of Landscape Architecture Program, Faculty of Built Environment & Surveying. Consequently, Mr Gan Yi Reng from Thinkcity Johor Bahru presented a fruitful lecture on "Rejuvenating the City Together in Malaysia Heritage Cities". There were introduction session and gift exchange session between UTM and TCU students. The last lecture was by Assoc. Prof. Dr. Kei Saito and Prof. Dr. Kazuhide Kawaguchi on thermal comfort study and Kamakura historic city in Japan
The second day of the workshop started with a field study visit to the historic city of Georgetown, Penang. The first visit to the historical landmark Fort Cornwallis where a  briefing was made by Ms Hui Li Yeoh, Ms. Gisele Taxil and Mr. Giovanni Santo who are heritage conservation experts regarding the historical and restoration of the dilapidated Fort Cornwallis.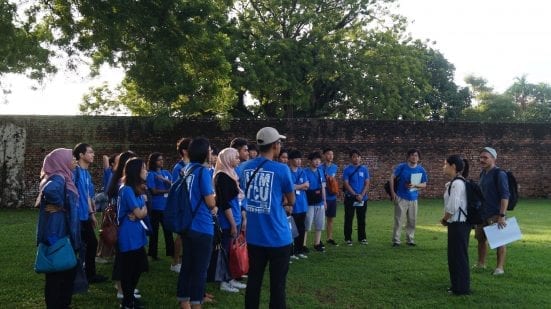 Next, we discovered Georgetown heritage trail guided by Mdm. Fazreen Dharleila Binti Abdul Jalil, an expert from Heritage Conservation Department in the City Council of Penang Island. We were guided to see and experience the cultural heritages of UNESCO World Heritage sites cover Little India , Che Ah Kongsi, Hock Teik Chengi Sin Temple, Koo Kongsi, Masjid Melayu Lebuh Acheh, Dr San Yat Sen's Penang Base, Yap Kongsi Temple, Nagore Shrine, Teochew Temple, Sri Maha Mariamman Temple, Kapitan Keling Mosque, Goddess of Mercy Temple, Penang Peranakan Mansion, Saint George Church and Chew Jetty. This heritage walk was a significant heritage learning to explore the richness of the  multi-cultural tangible and intangible heritage in Georgetown.
The workshop day ended at The Habitat where the students experienced the important natural heritage and the tropical rainforest biodiversity of Penang Hill.
The third day of Joint Workshop started with a visit to Landart Design Company, a well-known landscape architecture company in Malaysia. We were welcomed by the Landscape Architects, Miss Awatif and Miss Tan Roon Fang. Both Landscape Architects conducted a briefing on peat swamp forest in Malaysia, its management and contributions to a sustainable forest reserved and also how the peat swamp  projects were designed by Landart Design. They also shared two landscape design projects related to stormwater and linear park design.
The day continued with the workshop participants disembarked  on a  visit to an industrial heritage Charcoal making at Kuala Sepetang, Perak. The charcoal factory has been operating for more than 80 years. Mr. Chuah was the third generation of charcoal successor; he explained the traditional method of producing high-quality charcoal from the mangroves and the sustainable mangrove replanting.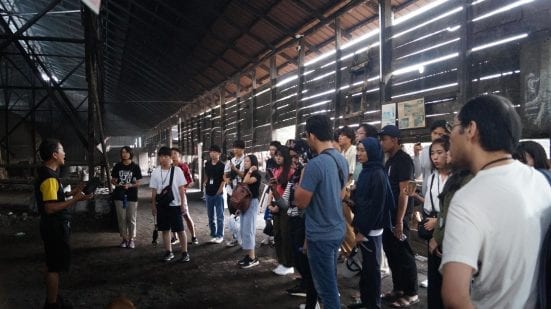 As the day went by, all workshop delegates ended their activity for the day and headed back to UTM to rest.
We departed to Singapore on the last day of this joint workshop. We were glad to visit Surbana Jurong Private Limited, an Asia based Consultancy for urbanisation and infrastructure developments in Singapore. Mr. Oliver Ng Boon Lee, the Head of Landscape Planning and Landscape Architecture shared internationally landscape design project and the World IFLA, Sila and MLAA award-winning landscape projects. The project sharing session demonstrated  the complexity and the implications of managing landscape projects.
The last field study visit was to Boat Quay guided by Dr. Abdul Rahim bin Abdul Hamid. Dr. Rahim explained the history of the Singapore River and the historic river revitalisation. We walked on the Cavenagh Bridge and enjoyed the scenic river surrounded the heritage buildings such as the Victoria Theatre and Asian Civilisations Museum.
At the end of the workshop, UTM-TCU students presented  thank you speecesh followed exchanging of gifts. This joint workshop created an interactive programme by combining workshop activities and real-life learning experiences.
Article is written by Dr. Lee Yoke Lai.