Building Information Centre (BIC) Faculty of Built Environment and Surveying in collaboration with UTMSPACE and Construction Industry Development Board (CIDB) Malaysia, organised a Seminar in Cost Engineering 2019 held at The Royal Widad Residence, Kuala Lumpur on the 25th of July, 2019.
The seminar was attended by 200 AEC professionals comprising Quantity Surveyors, Civil Engineers, M&E Engineers and Contractors.  Some of the current and past cost engineering issues were discussed as well as the future plans for the Malaysian construction industry. Five industry leaders from CIDB, Lembaga Lebuhraya Malaysia (LLM), Petronas and Cakna Enterprise Sdn Bhd shared  their vast experiences on the best practices and lessons learnt from various construction and engineering works in Malaysia.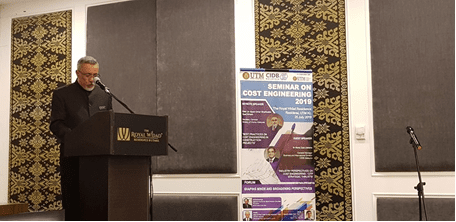 The Secretary-General of Ministry of Works Dato' Dr. Syed Omar Sharifuddin Syed Ikhsan in his opening speech urged local construction industry players to embrace the latest technological advancements of Industry 4.0 in order to remain competitive and relevant in the global arena. Dato' Dr Syed Omar also stated that the Ministry of Works is committed in advancing the Quantity surveying profession which will be promoting the usage of Big Data analytics.
The Deputy Vice-Chancellor (Development) of UTM Prof. Dr. Azlan Abdul Rahman while addressing the audience made a remarkable statement saying "As we are moving towards Industry 4.0, Quantity Surveyors also need to be more diversified in their knowledge and skills". He further stated that annual collaborative seminar such as " Seminar in Cost Engineering 2019 " is part of the initiatives aimed to add more value to our construction professionals, including the Quantity Surveyors.
Prof. Dr. Azlan added that the inclusion of Malaysian Civil Engineering Standard Method of Measurement Second Edition (MyCESMM) into the engineering syllabus for higher learning institution has greatly helped in producing skilled graduates who are more attuned with the current industrial needs. MyCESMM2 is a single measurement standard, produced by CIDB, which can be used as a guideline in Bills of Quantities preparation for civil engineering works, contracts costing as well as tender documents preparatiosn and submissions. Taking example from one of the forum speakers' case studies, Prof. Dr. Azlan highlighted that MyCESMM2 has not only helped the industry players to significantly reduce their operational costs, but also provided them with a systematic way to manage their operations.