Kuala Lumpur– The Master of Architecture students and lecturers from Faculty of Built Environment and Surveying (FABU), Universiti Teknologi Malaysia, had made UTM proud again by winning in the final edition of PAM-ZSR Architecture Prize Competition 2019. The competition was hosted by Pertubuhan Akitek Malaysia (PAM) in collaboration with Z&SR Architecture Ventures Sdn Bhd on March 2nd, 2020.
The competition which began in August 2019 was concluded in mid-October last year and attracted more than 60 students' entries from nine accredited architectural universities in Malaysia. The prize-giving ceremony was held at PAM Centre, Kuala Lumpur.  The cash prizes and winning plaques were given by PAM President, Ar Lillian Tay together with the prize benefactor, Ar Norzaini Mufti and his company partners after the ceremony was officiated.
This time, a total of 16 winners bagged the cash prize worth RM35,000.  After the fifth year of taking a role as the prize benefactor, Ar Norzaini announced that 2019 was the final edition wherein Z&SR Ventures hosting the competition. It is to give way and encourage other practitioners to be involved in ensuring a sustainable continuation of the program to help groom the emerging architects in the country in promoting their design ideas and creativities.
Ever since PAM-ZSR first started in 2015, the UTM Architecture fraternity under the Faculty of Built Environment then, has shown a great commitment by consistently participating in the competition. Without fail, the lecturers and students continue to dominate and won the top prizes each year for both Undergraduate and Postgraduate categories.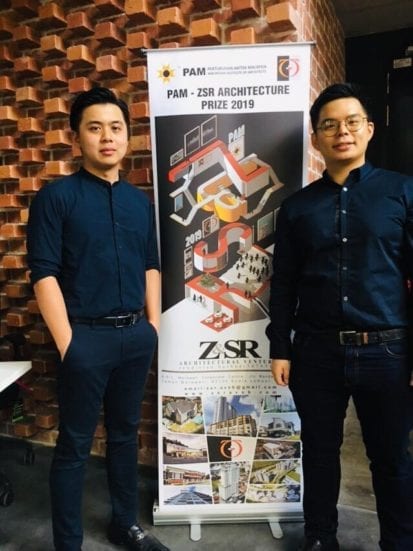 By maintaining the reputation for 2019 edition, the Master of Architecture students, UTM have soared again and bagged home top prizes for two out of six shortlisted projects in the postgraduate categories.
David Nee Zhi Kang impressed the judges and emerged as the winner for his unique work on urban design and architectural scheme entitled 'Artisanal Fisherman Community Wharf' where he bagged RM5000.00 cash award. David was supervised by Dr. Sharifah Salwa Syed Mahdzar, who also received a plaque and certificate as the advisor for the project. PAM Z&SR competition committee had also recognised David for his outstanding achievement in his previous win for the undergraduate category in 2018.
Another student, Ngew Kah Sheng with his work entitled 'The Theatre of Play' also secured RM 1000.00 cash prize in the finalist category. Ngew's scheme was supervised by Ar Chan Wai Lai, who also received a plaque and certification for his supervision of the work.  Along with David, Ngew also emerged several times as top winners of PAM Z&SR Architecture Prize Competition in the past years.
*Keep the spirit high and hearty congratulations to all UTM Architecture students and lecturers.