JOHOR BAHRU, 12 November 2016 – Universiti Teknologi Malaysia (UTM) won the Gold Award for Best University/College at the National level Nippon Paint Asian Young Designers Award (AYDA) 2016 open to all IPTAs and IPTSs.
There are four categories of award including Students Architecture Award, Students Interior Design Award, Emerging Professional Architecture Award and Emerging Professional Interior Design Award.
Altogether there were over 1,000 entries including from all major architecture schools like UM, USM, UPM, UKM, Taylors etc.
Twelve entries were short listed for each category. Out of the 12 for Architecture Award, seven were from UTM. Three  from UTM BSc Architecture and four from MSc Arch. Four of our students won both honourable mentions- Nursyazana binti Khalil mentored by Dr Sharifah Salwa, and Yeow Yan Hearng mentored by En Azari, the silver award by Ooi Soon Theng mentored by Dr Khairul and gold award by David Nee mentored by Assoc Prof. Dr Abd Halim Hussein.
David Nee was actually the most junior of our entries and his work was based on his 2nd year project. The gold award had a RM5000 cash prize plus all expenses paid participation in an international workshop in Jogjakarta, where he will compete with winners from other Asian countries for the Platinum award. Last year our student won the platinum award as well.
David Nee also won the gold award for best use of colour/paint amounting to RM1000 and best Social Sustainable design, which is quite an achievement for a 2nd year student.
With David Nee's win, UTM was awarded the Gold Award for Best University/college amounting to RM1000, and PM Dr Abdul Halim Hussein was given the Gold Award for Best Mentor with a prize of RM1000.
David Nee is also given the opportunity to be an intern at IJM Land which is a co sponsor with Nippon Paint for the competition, for six months.
For the Emerging Professional Architecture Award, two of UTM alumni were also short listed including two from the part time SPACE program although they did not win any major prize.
The faculty plans to urge more of our alumni to join in future. On the side note, the competition was judged by professional architects and representatives from the sponsors with the authors name and institutions unknown.
When the shortlisted entries and winners were selected and the names were revealed, the judges were very surprised that most were from UTM. One of the judges told us that the jury found UTM's entries to be of very high quality.
The ceremony was held at Holiday Villa Subang Jaya.
Congratulations
David Nee Zhi Kang (3rd Yr B Sc Arch)
Gold Award                          RM5,000.00
Best Green Innovation        RM1,000.00
Best Colour Choice             RM1,000.00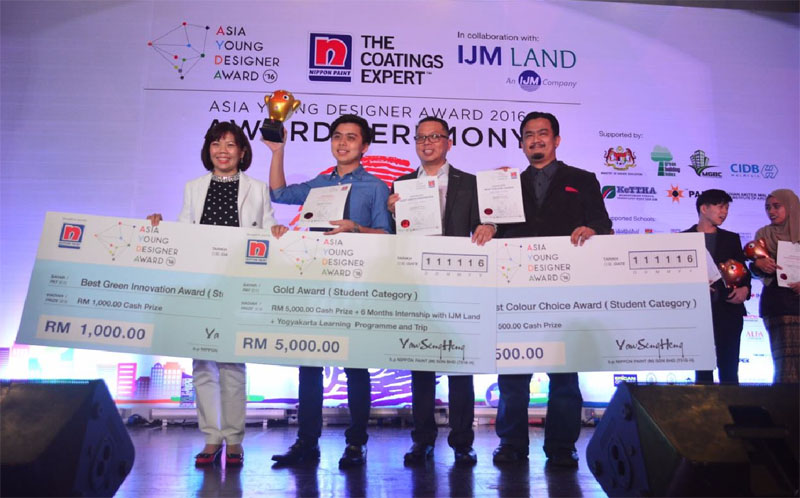 Congratulations
Jackson Ooi Soon Theng (M Arch)
            Silver Award                         RM3,000.00
Congratulations
Nur Syazana binti Ah Khaliludin (M Arch)
Yeow Yann Herng (3rd Yr B Sc Arch)
            Honorary Mention               RM1,500.00 each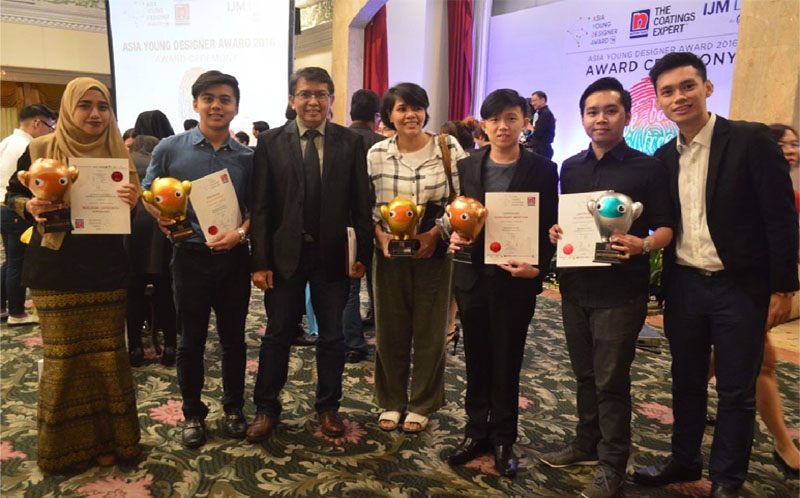 Congratulations Finalists
            Yap Shook Yen (3rd Yr B Sc Arch)
            Muhammad Izzudin Awang Junit (M Arch)
            Farkhan bin Hassan (M Arch)