Prepared by: The Director of Architecture program, Assoc. Prof. Dr. Alice Sabrina Ismail
Universiti Teknologi Malaysia (UTM) Architecture Programme successfully organized an E-Carnival Roadshow, 'Jom Masuk Senibina UTM 2022', a collaboration event with Johor Matriculation College.
This collaboration initiative was sparked by a bilateral meeting between the two parties in early December 2021.
It aimed to provide exposure on the career of architectural professionals and the marketability of graduates in this field, not only to matriculation students but also to secondary schools, parents and general public.
This roadshow, conducted on 30th January 2022, was officiated by the Dean of Faculty Built Environment, Assoc. Prof. Sr. Dr. Kherun Nita Ali.
The opening remark was done by the Head of Architecture Program, Assoc. Prof. Dr. Alice Sabrina Ismail, and moderated by Dr. Iziq Eafifi Ismail.
This roadshow received positive feedback and attracted many local students and teachers from matriculation centers, public and private schools throughout Malaysia, and the public.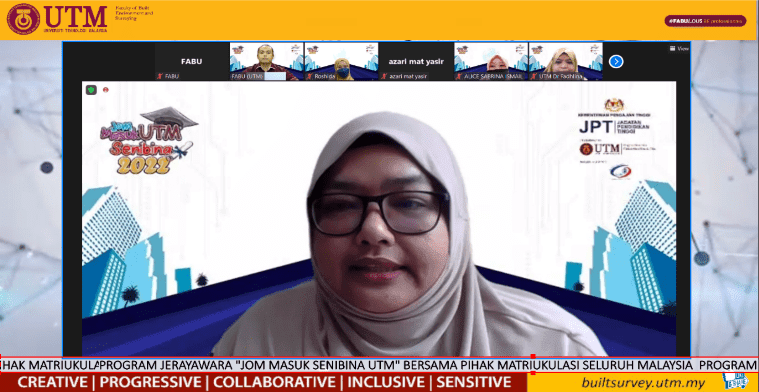 The 4-hour roadshow session highlighted the benefit of enrolling in the architecture program by the program coordinators, Dr. Roshida Abdul Majid, Dr. Fadhlina Ahmad @ Taufik and Mr. Azari Mat Yasir.
There is also a particular slot on having successful alumni in the architecture field: the author of 'Ustazah Basikal' book, Mr. Ahmad Mohd Isa, who had sold 30,000 copies worldwide and a famous YouTube influencer, Mr. Muhammad Izzuddin Awang Junit (The Pakcik/Keraf Studio YouTube Channel).
Apart from that, the roadshow also invited graduates from Matriculation Center, Dr. Azalillah Ramdani Musa and Dr. Tengku Intan Suraya Tengku Aziz on career development path in the field of architecture.
This roadshow was attended by 150 participants, indicating an overwhelmed and positive response from many parties. It is hoped that many will enroll in the architecture program for the new intake Semester 1 2022/2023.
This early exposure is vital to produce high-quality and holistic graduates who are going to venture into the job market and meet the current industry and market's needs. This also will contribute to the nation's development in line with the requirements of the country Shared Prosperity Vision Policy (DWKB2030).